09: Job Loss, Spousal Deployment & Finding Community After Military Moves with Sam Munoz
On this episode of the Working Christian Mom podcast, my friend Sam Munoz is here. Sam is the author of The Intentional Bookshelf. And her love for books runs deep and we talk about her parenting secret weapon… spoiler alert, it's books! And she shares some of her favorite children's books that might be flying under your radar.
Sam is a military wife, a mama and up until very recently worked full time as a software engineer. In December of 2017, Sam's company lost a pretty big client because that client shut down completely. And Sam's role was 100% tied to this client. She was faced with impending layoff and wasn't sure what to do. It was stressful and the unknown was scary. On top of all of this, her husband is in the military and was deployed at the time we recorded (he's home now). n this episode, Sam shares the story of how God met her in the midst of pending job loss, what it's really like to be on the other end of a deployment and how she found community in a new city after a military move.
In this episode you'll hear:
Sam's story of pending job loss and what happened when she decided to take a leap of faith.
How Sam's husband reacted to the news of her work crisis.
How God carried Sam through the decision process.
The challenges Sam faces as the parent who is home while her spouse is deployed.
Sam's recommendations for a smooth transition for your kiddo when your spouse deploys.
Sam's recommendations for finding community in a new city (she moves a lot because of the military).
Sam's book love for books runs deep. In this episode she recommends her favorite flying under the radar children's books.
Here are some things from my conversation with Sam that I loved.
God is in the middle of the story, always. He goes before us, he comes behind us and he hems us in the middle.
It wasn't a secret to God that Sam was going to be faced with a difficult decision about her career. He had already been laying the groundwork, giving her the connections and skills she would need to join the world as an entrepreneur.
If you are a parent of a child whose other parent is deployed, here are some recommendations from Sam.
Don't start talking about the deployment too far in advance. Sam starts talking about it about a week before her husband leaves.
Talk specifically about how they are leaving. In Sam's case, she tells her daughter that daddy is leaving on an airplane.
Remind your child that even though someone is leaving, we can love them while they're gone.
Read books that help your child make the connection to their parent and their job.
Sam recommends only using video chat like Facetime for times when your spouse is away for a long time. Reserving it for deployment will help your child make the connection that mom or dad is away for a long time.
Remind your child that their mommy or daddy loves them, even if they're away right now.
Pray with your child and for their parent while they're away.
If you can send videos and photos back and forth do it. Encourage your spouse to send just regular style videos of them talking to your child.
Take lots of videos and photos before the deployment, so your child can reference them while their parent is away.
Purchase some books where your voice can be recorded reading them. Have the deploying spouse record them before they go.
Sam's recommendations for finding community when you're new to the area:
1. Pray. Ask God for exactly what you need, tell him you're looking for friends.
2. Be bold. New friends aren't likely to come to you unless you're looking for them and seeking them out.
3. Use online communities to find in person ones. Facebook has a ton of neighborhood and city groups. Sam says that's a great place to start.
Links Mentioned, affiliate links present.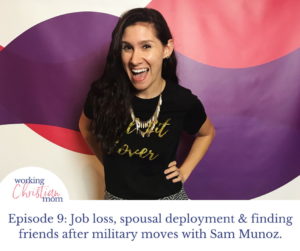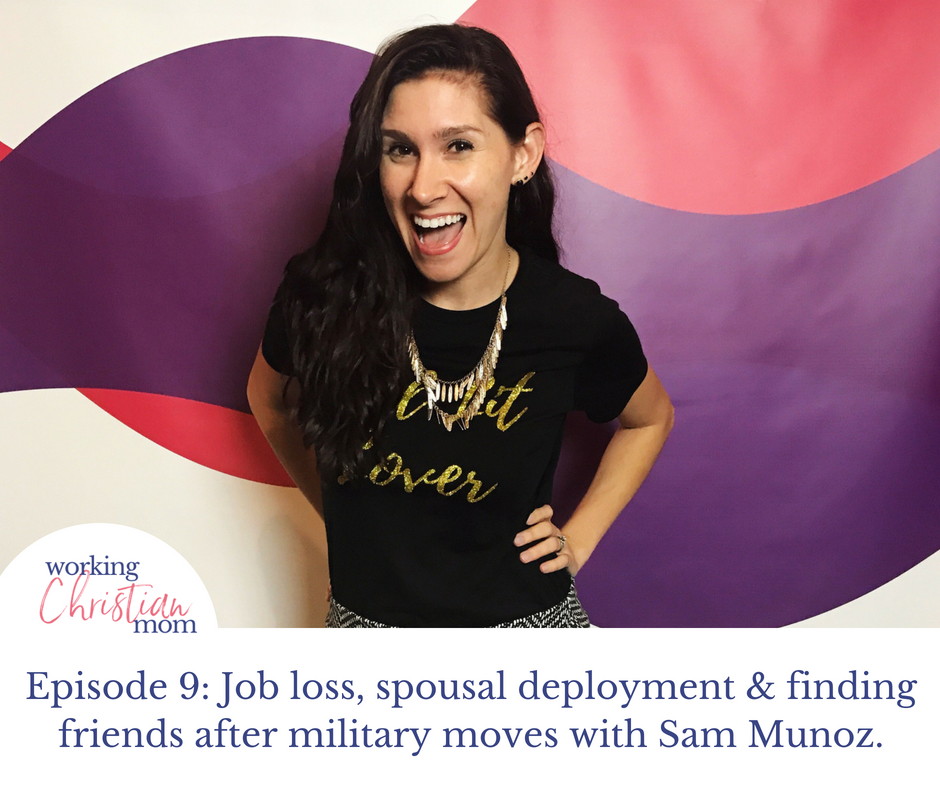 About our guest: Samantha Munoz is a mother, wife, engineer, bibliophile and avid coffee drinker. She is also the expert kid's lit curator at Addison Reads, author of The Intentional Bookshelf and founder of The Intentional Book Club. Sam helps parents as they search for the perfect books for their little ones and helps moms and dads build a library with a purpose. Once a seriously overwhelmed and stressed out parent herself, Sam turns to children's literature for the answers to all of her parenting dilemmas. She loves when it rains because it gives her an excuse to stay inside and read with her daughter!
Connect with Sam: Website / Instagram / Facebook